Aerial Silk Beginners L1 (7-9 yrs old)
January 12 (Saturday) at 9:00 am
8 spots left
Location
DojoBoom Thousand Oaks
Silks (also called aerial tissue, tissu, aerial fabric, ribbons etc) is a specialty fabric students use to climb, wrap, twist, bend, and drop in a variety of positions and movements. Fabrics can spin, swing, or remain static depending on how the student manipulates the silks.
LEVEL 1
This class is for the absolute beginner. Students will learn basic silks conditioning, how to climb and descend the silks safely, single foot locks with beginner poses. Students will also explore some aerial hammock drops and poses as well.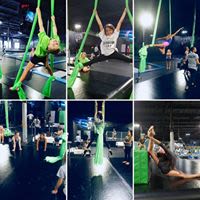 Sorry - that class has already taken place!